Shoulder Issues?
Have you worked up overhead for a long time through your life or out in front and you have dealt with shoulder issues? Not necessarily a torn rotator cuff or anything like that, but this is actually specifically for a patient who does construction work, has done painting, basically worked overhead for a really long time and have noticed that they don't really actually have much strength up overhead.
We have a patient that it hurts to raise past a certain range but tested him for rotator cuff issues and it's not the rotator cuff. The rotator cuff absolutely could use some stabilization, but it's from doing all those things over and over in the shoulders and he has started to roll forward because this area ends up tight. Then years and years like that and one he has a hard time getting into position to be overhead. If you are overhead all the time certain muscles are now weak and overactive. In return whenever I try to go overhead, even if I can fight for position, I'm not going to be as strong.
Exercises:
We're going to go through three pieces that will help stabilize and strengthen that shoulder, helping with shoulder issues. One is a short overview of a couple of some things for the rotator cuff to bring in some stabilization. Then I'll go over something to help with the posture, basically trying to bring positioning back and then a couple things to kick in some more strength.
Exercise 1:
First we are going to start with two resistance bands. One is red and one is blue. The red is less resistance and the blue is more resistance. We use the less resistance for rotator cuff. The rotator cuff is basically where four muscles wrap and insert around the shoulder. They're really big for securing things and a simple way to go through and get them more stable is internal and external rotation. I bring my elbow to my side and if I stand to where I can drag that band across my body, I'm internally rotating my shoulder(pictured below). If you were to put anything up under your elbow, I want to secure it and then I just do reps here. That's it. I suggest to do 10 to 15 reps, internal rotation. That form is just hinging around the elbow staying close to the body.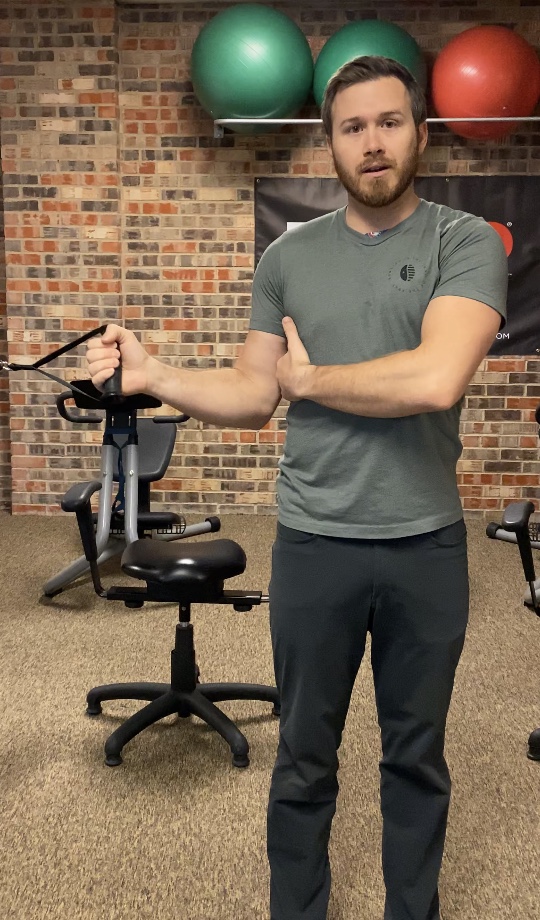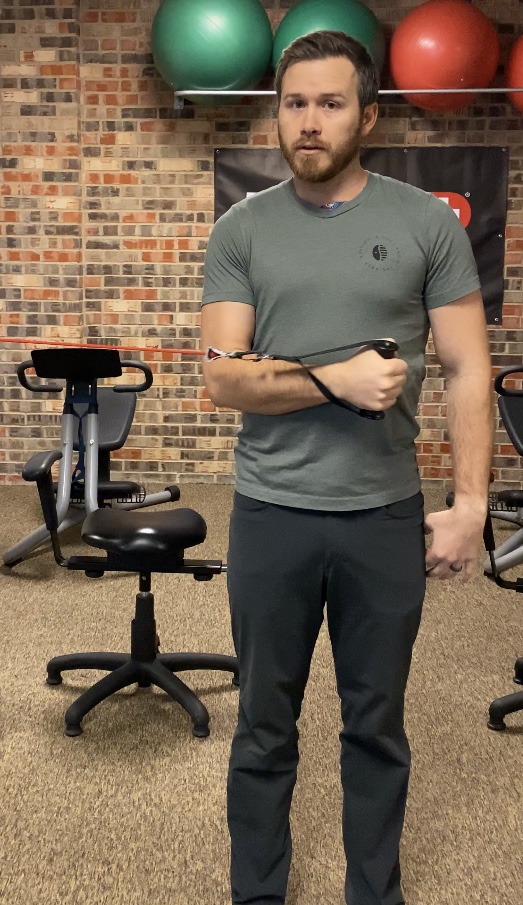 Then I would turn in all the way around and do 15 reps external rotation(pictured below). To do that I'm going to go through the same motion, internal and external rotation, but with my arm now out to the side. I will still hinge around my elbow and keep it next to my body. There's not a huge range of motion, it's just working on that internal rotation. So I would go through two to three sets of internal and external rotation, around 15 reps each set.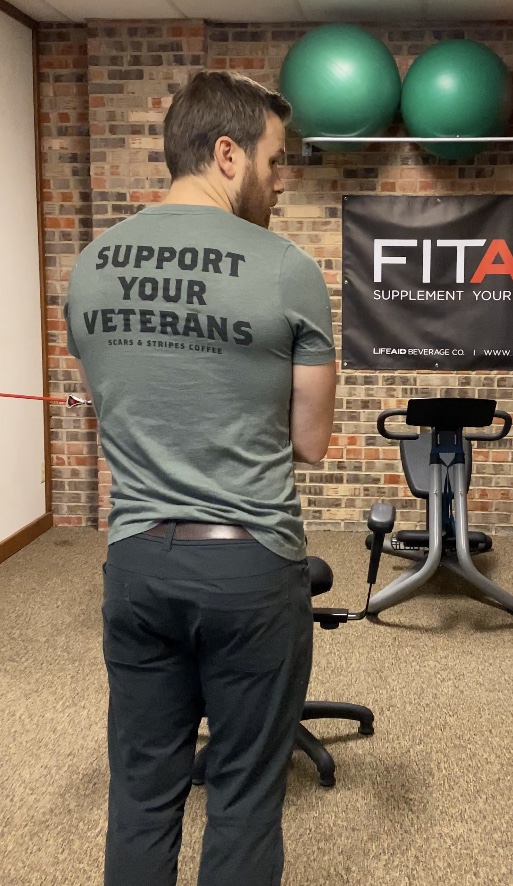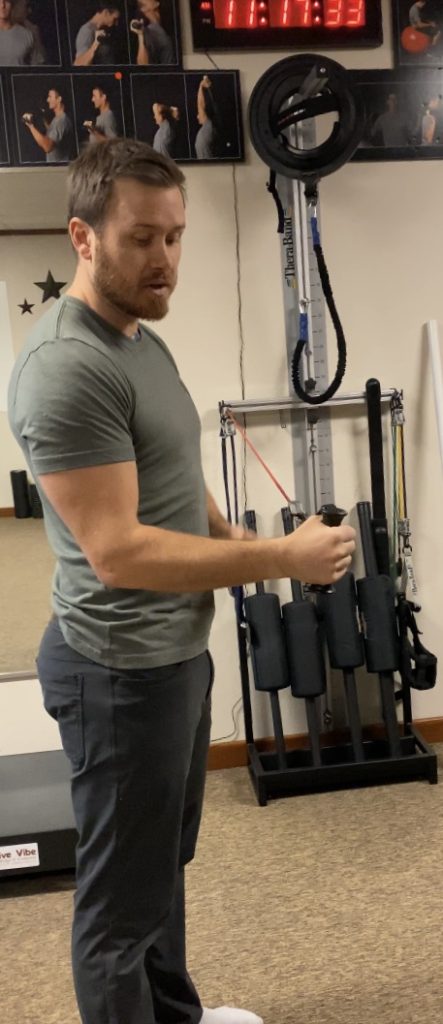 Exercise 2:
Once I've done that and helped with the stabilization, making sure that there's not any rotator cuff issues, the next piece would be actually working in something that I call a wall angel. If you were to just think about doing a snow angel on the ground, you let your arms and your legs go out. Here, I'm actually going to do it against the wall. I just put my shoulders, butt, and head back and make sure they are always making contact with the wall. I externally rotate my arms, flatten them against the wall, and slowly drag upwards overhead until they reach each other.
Now eventually your chest is probably going to be so tight that it pulls you off the wall and maybe you can only reach away from the wall. The whole time you will be pushing backwards trying to keep as close to that wall as you can. Should take about 10 seconds up, 10 seconds down and all you need to go through is three to five reps. What your doing is working on all the muscles that hold those shoulder blades back into their normal position.
If it gets to where it's easy, the thing that you can do to make it harder is try to also tilt your pelvis to flatten your lower back. So, butt, shoulders, head, and then flattened lower back and tuck your chin and go through it. That will be significantly harder if you need to challenge yourself.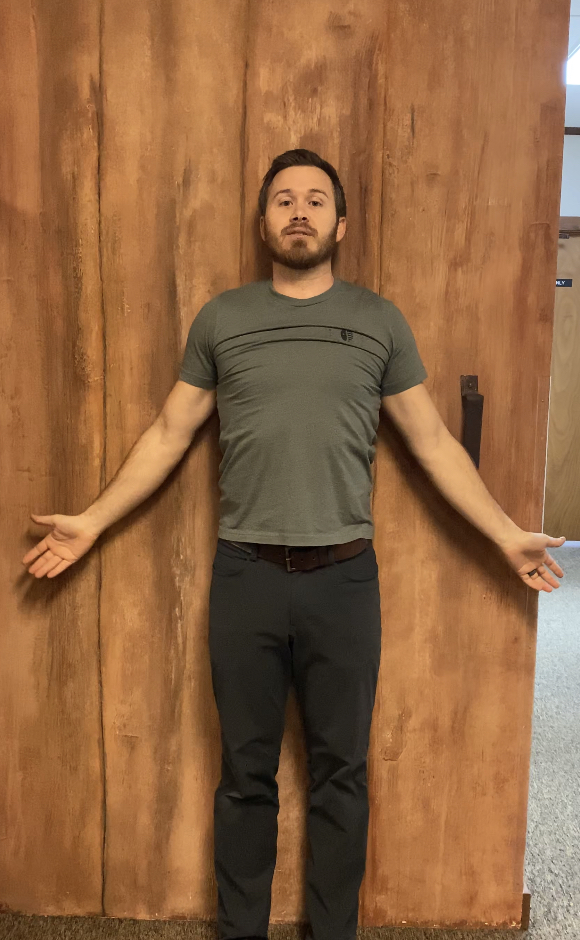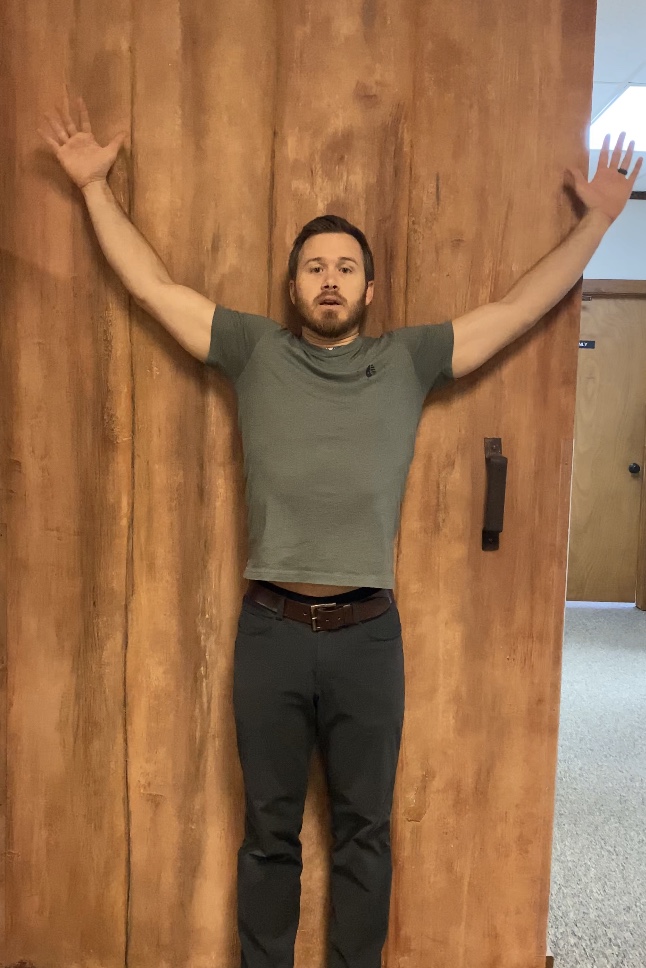 Exercise 3:
Whenever that shoulder rolls forward, the shoulder blade, the scapula wings outward causing more shoulder issues. To keep this from happening you want to tighten that against the body so that your arms don't sit there. Then whenever I come overhead I can do good things.
After you've done that and have worked on the positioning, your going to take now the blue band and step on it. You are just going to try and drive overhead(pictured below). You could also do this with something really light weighted, like a gallon of milk, but just go through and press straight up overhead. Your also going to go through and bring your shoulder up as high as you can into shoulder flexion. You can do two to three sets and hang around eight to ten reps depending on how fatigued your feeling.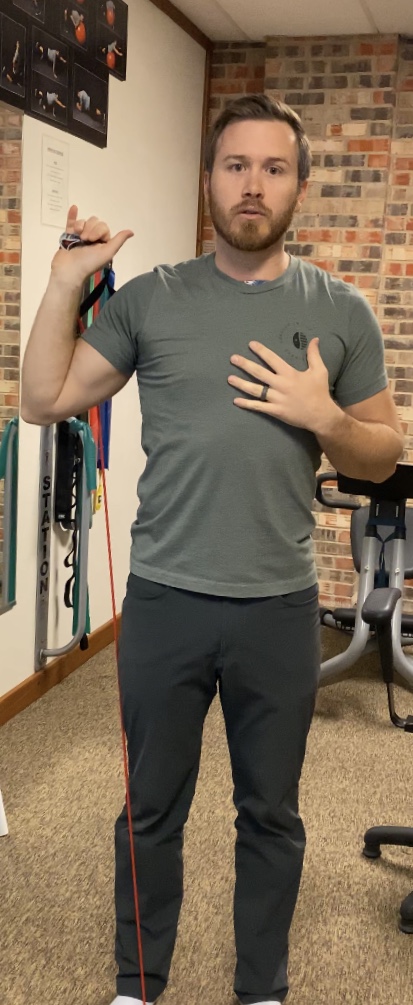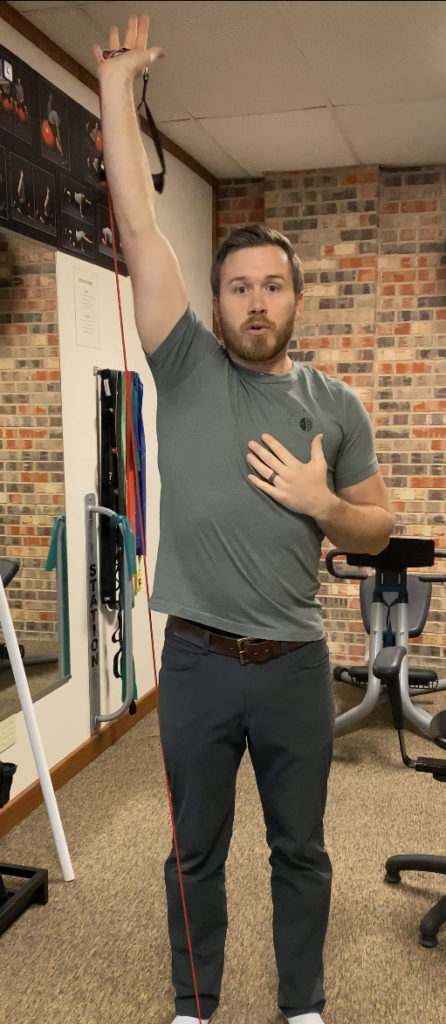 You work those pieces through, stabilization for the rotator cuff, positioning with the wall angels, and then the other band for some strength building, it will actually bring a lot of balance back in and help you get overhead and helping with those shoulder issues.
Let me know if you have any other questions. I'll be happy to help. Follow us on YouTube, Instagram, and Facebook. We'll see you all soon.
-Dr. Dustin
Schedule your appointment HERE!