Dr. Robert Bergeron
Dr. Robert Bergeron owns and operates Denison Chiropractic and has been serving patients in the Denison, Texas area for over three decades. He knows firsthand how debilitating back pain can be. After suffering from severe back pain due to a skydiving accident, Dr. Bergeron dedicated his life to helping other people get relief from back pain and achieve a pain-free, healthier lifestyle.
Dr. Bergeron is a board-certified orthopedist who graduated from the Palmer College of Chiropractic in 1982. He has had extensive training in diagnostic testing, nutrition, and rehabilitative exercise. Supported by a team of qualified professionals with experience in various areas of chiropractic medicine, Dr. Bergeron provides a variety of chiropractic services to his patients, ranging from spinal correction to lifestyle and nutritional counseling.
Whether you have back pain or simply want to make healthier lifestyle changes, Dr. Robert Bergeron can create a wellness plan for any patient with a sincere desire to change his or her life for the better, and he is ready to help you. Call today to make an appointment.
_______________________________________________________________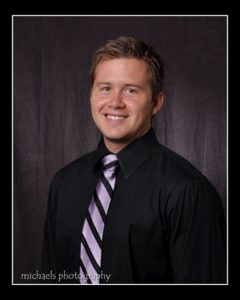 Dr. Dustin Bergeron grew up with chiropractic care in his blood. Following in the footsteps of his father, Dr. Robert Bergeron, he joined Denison Chiropractic right after he graduated from college. Dr. Bergeron is an avid, lifelong health and fitness enthusiast and is dedicated to educating patients about the benefits of healthy living and helping them live a life that is as pain-free as possible.
Dr. Bergeron brings years of training to the practice. He holds a doctorate in chiropractic, a Bachelor of Science in Anatomy, and a Bachelor of Science in Health and Wellness. As a certified Corrective Exercise Specialist and a CrossFit Level 1 Trainer, Dr. Bergeron is able to incorporate proper movement trainings and techniques to bring strength and stability to the body and the spine. This not only helps patients get out of pain faster, but it also gives patients longer lasting results.
Dr. Bergeron also specializes in the treatment of pain and dysfunction in the jaw, also known as TMJD. Though not much is known about the cause of TMJD, Dr. Bergeron has a strong history of restoring healthy, pain-free jaws to patients that experience this disorder. Starting with just as a desire to help his wife with this debilitating condition, he has since become a highly sought after expert in this area and is now consistently co-managing many cases with local dental and orthodontic physicians.